Ford Mustang History
1973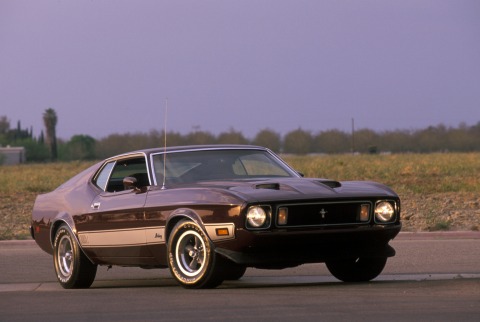 A buzz is in the air. Mustang will undergo an extensive change in design for the 1974 model year. The question is: what will happen to Mustang?
The 1973 Mustang marked the end of a generation. The fuel crisis had moved buyers' preferences from large, gas-guzzling muscle cars to smaller, more fuel-efficient cars. As early as 1971, top-level management had plans for a sporty, fuel-efficient Mustang. Strong sales of the compact Maverick, Mercury Capri, Datsun 240Z and Toyota Celica suggest that the public is hungry for an economical "little jewel." The Mustang II is Ford's answer.
The turn signals in the grille were turned vertical rather than the horizontal placement on 1971-1972 models. Chrome headlight and taillights bezels replaced the black from 1971-1972.
The Mach 1 lost it's pop-open fuel door, and the side stripes were lowered and thicker, with "Mach 1" written inside the stripe in front of the rear wheel rather than on the front fender behind the front wheel.
Total U.S. Production: 134,267
The Arab oil embargo and fuel crisis spurs growth in the subcompact market.
A surge in convertible sales occurs as Ford announces that the next generation will not be available with a convertible option. Due to government regulations, the 1973 Mustang would be the last Mustang convertible until 1983. 1973 would also be the last year for Mustang Grandé.
The low-budget movie Gone in 60 Seconds was released in 1974. It was a 90-minute movie with a 40-minute chase scene featuring a yellow 1973 Mach 1.
Engines
302cid 2V V8 141HP F Code
351cid 2V V8 177HP H Code
351cid 4V V8 266HP Q Code (Cobra Jet)
250cid 1V 6-cyl 99HP L Code
Production
Fastback, Mach 1: 27,675
Fastback: 16,622
Coupe, Grandé: 18,045
Coupe: 57,350
Convertible: 6,121
-Total-: 125,813
Prices
Coupe, standard: $2,760
Fastback, standard: $2,820
Coupe, Grandé, standard: $2,946
Fastback, Mach 1, standard: $3,088
Convertible, standard: $3,102
Colors
Bright Red
Dark Green Metallic
Gold Glow
Ivy Glow
Light Blue
Medium Aqua
Medium Blue Metallic
Medium Brown Metallic
Medium Copper Metallic
Medium Green Metallic
Medium Yellow Gold
Saddle Bronze Metallic
Wimbledon White
Blue Glow
Medium Bright Yellow
Recent Forum Posts
Sponsored Links