Ford Mustang History
1965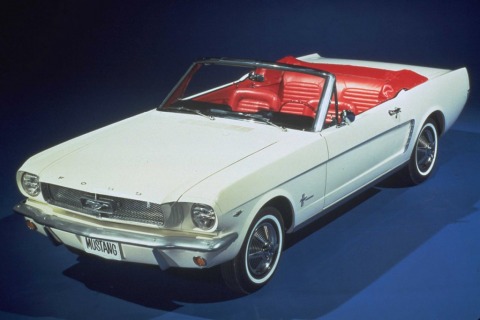 For purposes of clarity, it is useful to note that Ford never referred to Mustangs as "'64" or "'64 1/2" models. These designations are the work of collectors who seek to differentiate an early '65 from a late '65. That said, Ford made midstream changes throughout the model year. The 289 cid V8 replaces the 260; the driver's seat becomes adjustable; an alternator replaces the direct-current generator; spare tire brackets are revised and more.
To further Mustang's performance edge, legendary builder of the AC Cobra, Carroll Shelby, teams with Ford to create a series of high-performance Shelby Mustang race cars. Taking 289 cid V8 fastbacks off the line at Ford's San Jose assembly plant, Shelby makes the necessary modifications to vault the lively 2+2 Fastback to the rank of king of the SCCA.
Rules stipulate that at least 100 street-legal versions of the Shelby Mustang are produced in order to qualify as an SCCA B-Production racer. Shelby easily meets the minimum requirement building, on average, 2,000 units per year between 1965 and 1970. Shelby American soon is occupying two hangars at Los Angeles International Airport.
The first Shelby Mustang was introduced in 1965. They were all fastbacks with no rear seat and the spare tire mounted under the rear windshield. The 289 was hopped up to 306 hp. They were all Wimbledon White fastbacks with black interior and Guardsman Blue stripes. The fuel door wore the pony & tribar Mustang enmblem.
April, the Mustang GT option debuts, featuring improved instrumentation, auxiliary lamps, front disc brakes, GT trim and polished exhaust tips.
The Dearborn, Metuchen and San Jose assembly plants are barely able to supply demand. over half a million Mustangs are sold during the course of its first model year.
1964's Goldfinger was the first major motion picture to show a Mustang. James Bond drove an Aston Martin DB5 while chasing Tilly Masterson in a white 1964 1/2 Mustang convertible. Bond's center caps popped out and became spinning blades, which slashed the Mustang's tires and destroyed the body panels. There was also a gold fastback created for the movie, but it wasn't ready in time for production.
Thunderball also showed a Ford Mustang; Fiona Volpe drove a Sky Blue 1965 Mustang convertible.
Engines
200cid 1V 6-cyl 120HP T Code
289cid 2V V8 200HP C Code
289cid 4V V8 225HP A Code
289cid 4V V8 271HP K Code (Hi-Po)
289cid 4V V8 306HP K Code (Hi-Po, GT350)
Production
Fastback, standard: 71,303
Fastback, luxury: 5,776
Coupe, standard: 372,123
Coupe, luxury: 22,232
Coupe, bench seats: 14,905
Convertible, standard: 65,663
Convertible, luxury: 5,338
Convertible, bench seats: 2,111
-Total-: 559,451
Prices
Coupe, standard: $2,320
Fastback, standard: $2,533
Convertible, standard: $2,557
Colors
Champagne Beige
Dynasty Green
Honey Gold
Ivy Green
Midnight Turquoise
Poppy Red
Prairie Bronze
Rangoon Red
Silver Blue
Silversmoke Gray
Springtime Yellow
Sunlight Yellow
Tropical Turquoise
Vintage Burgundy
Wimbledon White
Caspian Blue
Raven Black
Recent Forum Posts
Sponsored Links